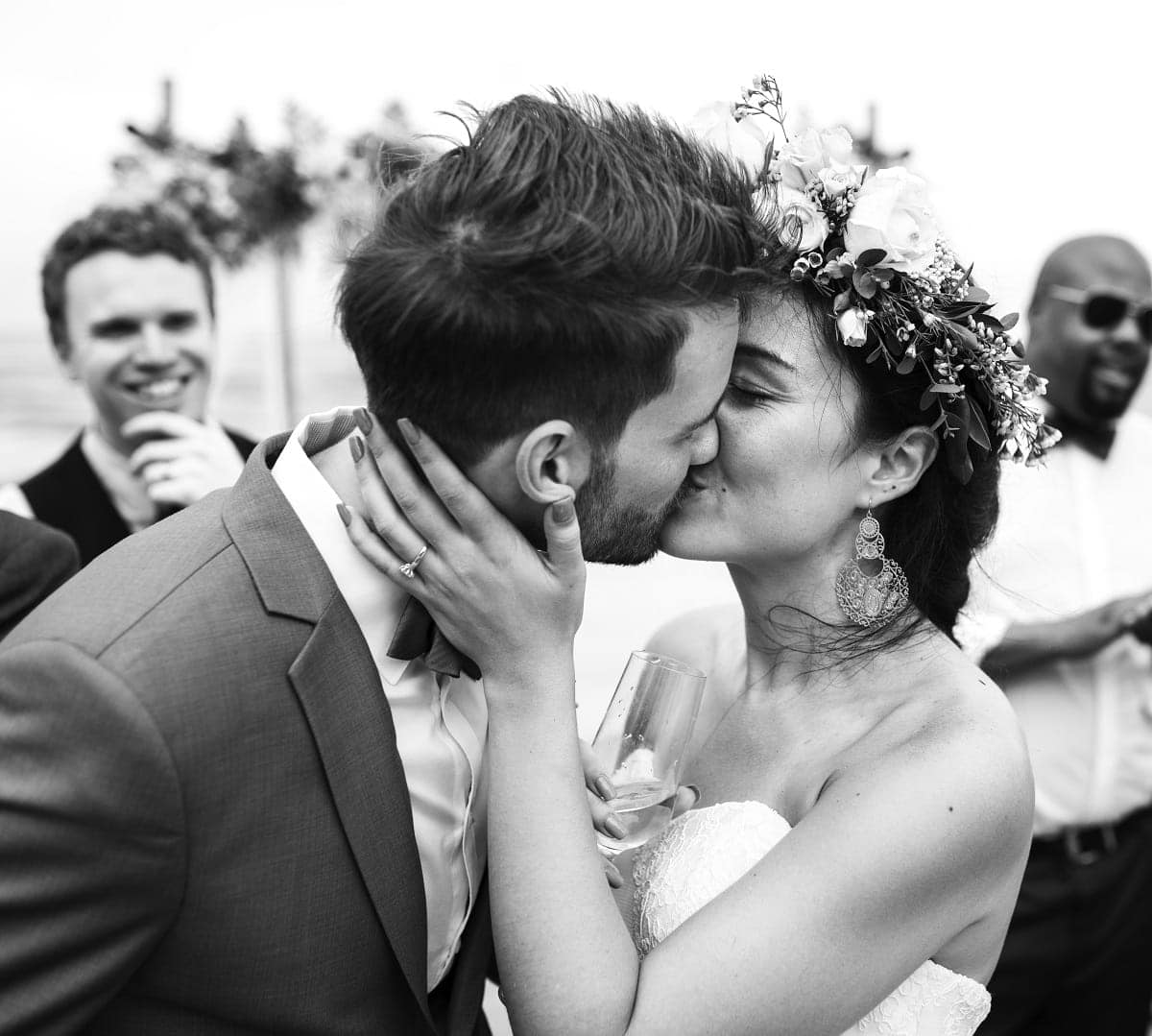 Using black-and-white photography or color to emphasize certain details can be an unexpected twist on your wedding day. The two techniques present different challenges, but both have their charms if you know how to use them correctly.
Using black and white as a visual medium to accentuate the elegance of your reception and make it immortal is not just a passing fad.
With so many recent weddings opting for black and white to make a wedding album, it is not surprising that some couples choose to go the other way to stand out from the crowd in their own way. But is it worth it? And when is the best time to take this bold step? Here's everything you need to know about using black and white in your wedding photos.
Why to use black and white in wedding photography
There are many reasons why you might consider using black and white photography for your wedding. The first is that you can use it to create a specific atmosphere.
Many people associate black and white with a particular era or look, often with Hollywood glamour. If, for example, you are getting married in a classic or vintage setting, this might be a good option. You can also opt for a more modern or edgy look, depending on the style of your wedding.
What about the weather? If there is a thunderstorm or a very overcast sky, you won't have the same choice of colors as you would if the sun was shining. If you are concerned about light, black and white is an excellent option because you can control contrast in a way that is not possible with color photography.
You can also take advantage of shadows to create different effects. With black and white, you can draw attention to certain aspects of the wedding or to particular details. This technique can be especially effective if you use color in other aspects of the wedding, perhaps with flowers, tablecloths, or other decorations.
How to use black-and-white photos during the wedding ceremony
One of the most common uses of black-and-white photography in a wedding is during the ceremony. With so many things happening all at once, it can be difficult for a couple to focus on every single aspect of the wedding. Black and white photography can help you stay present and aware of what is happening at that moment, as well as the overall atmosphere of the event. For example, you can use dramatic shadows to draw attention to the setting or stained glass windows of a church.
You can also use the absence of color to focus on the most important part of the ceremony: the two of you. There are some details you will want to photograph in color, such as flowers and other decorations, but you can choose black and white for most shots. How to use color in wedding photos? Color is a very powerful visual tool and can be used in a variety of ways for your wedding.
You can use color on certain details to enhance the mood, depending on the tone of your wedding. If it is a more romantic or sentimental event, for example, you can choose soft, subtle tones. If, on the other hand, you want to create a more lively atmosphere, you can opt for bolder shades. There are many ways to use color in your wedding photos, even in black and white images.
You can also use color in hair or makeup, with flowers or on dresses. If you decide to use color in your black and white photos, you have many options. You can choose a rich color, almost like a shade of black, or a pastel shade, very similar to white.
You can also explore the possibility of mixing different hues or shades to create a color that is not usually associated with white or black.
Why choose black and white for your wedding?
Black and white is a timeless choice for wedding photography, but there are also many other ways you can use it to give your wedding style and elegance. If you choose black and white for your wedding, you can take advantage of the absence of color to draw attention to certain details, even if the rest of the day is very colorful.
For example, if your wedding is vintage or retro in style, a black and white photo album can be a great way to capture the look and feel of the day.
Black and white can also be used in the wedding album or photo book, or in other ways, such as on invitations, table decorations, or even the cake. It is a bold choice, but black and white can be an elegant way to give your wedding a creative touch.
HELLO! IT IS A PLEASURE TO MEET YOU, I AM
matteo
and i am a
wedding
photographer
In addition to being a wedding photographer, I am a husband (lucky!) and a dad (super lucky!).
I love happy tail wags and purring in the evening twilight, which is why we also have two beautiful furries in our family, Octavia and Nova.
I love the smell of the woods where everything is so wild, where you can reconnect deeply with nature. In the same way, I love the only means that allows you to stay firmly connected to the world around you, the motorbike.
My wife Giulia and I travelled across Europe to the North Cape, where we left a piece of our hearts.