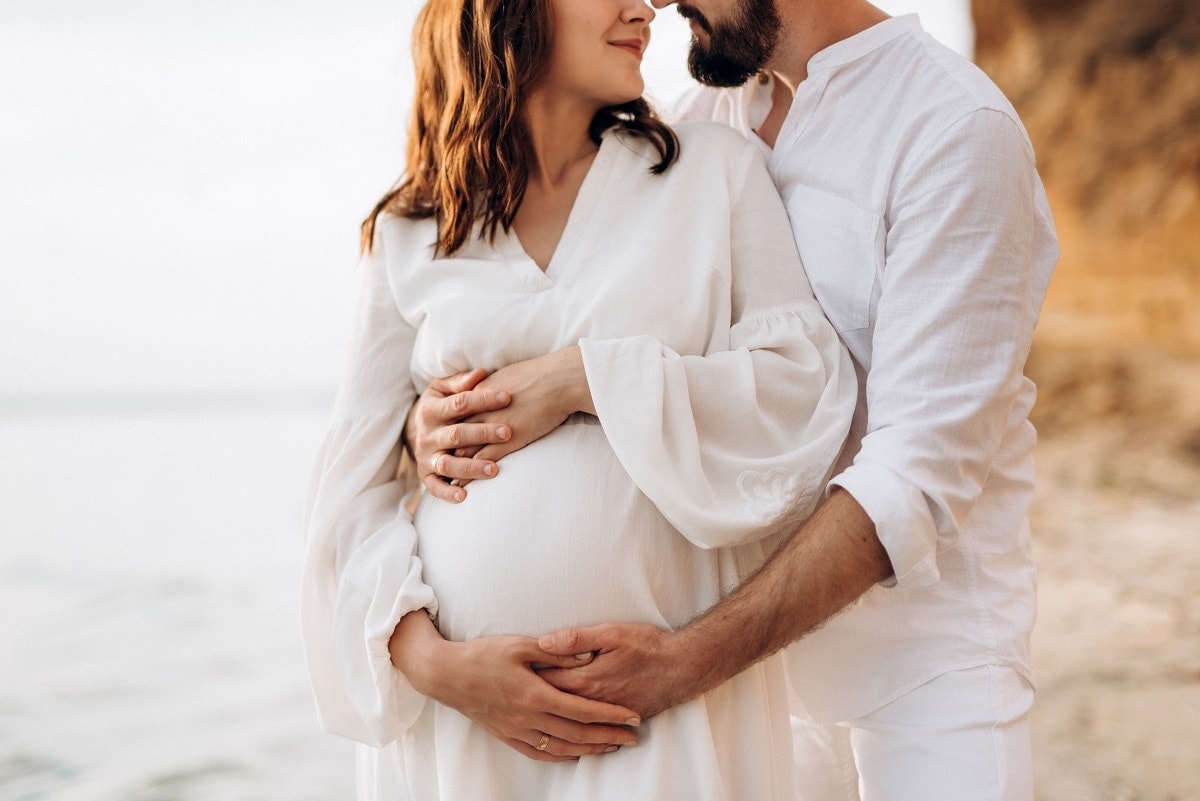 Many newlyweds-to-be wonder if it is the right time to get married during pregnancy. Some say that the ideal would be to wait until after the birth, to show the world their little one; others prefer to celebrate the wedding during sweet expectation, because they believe that this is a very special phase of one's life. In reality, there is no certain answer, as each couple is free to make their own choices. What matters is to always maintain the right balance between one's own desires and the needs of the mother-to-be. My name is Matteo Braghetta, I am a photographer specializing in weddings, and today I want to reveal to you what are the most beautiful photos with baby bump to take during the wedding. As with all types of weddings, even the one during pregnancy, must require first of all the choice of style: my advice is to aim for the reportage style wedding; in this way you can get natural and extremely exciting photographs.
Taking photos of the pregnant bride
Taking photos of the bride during pregnancy is extremely exciting, but it is also necessary to take into account her condition, which may require more breaks and special attention. During pregnancy, the body changes, and so does the way it looks. Some women are quite happy to show these changes, while others prefer to hide their baby bump until it is time to breastfeed. Whatever your choice, a pregnancy wedding is always a special event. Have you already thought about what photos you want to take during the wedding? You might decide to wear a wedding dress that suits your condition or pose with your baby bump for some special shots. Remember that during pregnancy you may need more time to get ready and that you will need to drink a lot to keep hydrated.
Planning for unique shots is essential. A pregnancy wedding is a very special time; in fact, it is a once-in-a-lifetime event. For this reason, it is important to organize yourself in the best possible way to make the most of it and get beautiful memories to cherish forever. You must first decide whether you want to have your photos taken during the wedding or before or after. Generally, pregnant women prefer to pose for shots only on their wedding day, but there are also those who choose to have them taken before or after the birth.
Having special memories with even your little one surely is exciting; that's why groom and bride will definitely take some shots starring the baby bump. Clearly it is not an obligation, but couples who choose to get married during pregnancy probably do not want to keep it hidden and in fact want to let the world know. That's why souvenir photos of that moment will surely be exciting to look back on in a few years, especially in the company of the little one or two.
Pregnant bridal tips: how to dress for your wedding
The bride's dress has always been the protagonist of the wedding, even when you are pregnant things do not change but style experts have given some tips that can help you feel more comfortable, to enhance in the right way the baby bump that will then be immortalized.
Having a baby bump does not mean giving up being stylish and glamorous. On the contrary, for many mothers-to-be, it is a source of great pride to show off their baby bump to the world. Here are some tips for choosing the perfect maternity wedding dress even if you are pregnant. First of all, you need to take your shape into consideration, trying to enhance it as much as possible.
First of all, it is important to choose a dress that does not squeeze your baby bump too tightly: it is better to opt for a soft model with flowing lines that does not highlight your pregnancy too much. Secondly, it is good to avoid wearing a dress that is too short: better to choose a model that comes at least below the knee, so as not to show off your legs too much. Finally, if you want to be sure not to make a mistake, you can always opt for a custom-made wedding dress.
HELLO! IT IS A PLEASURE TO MEET YOU, I AM
matteo
and i am a
wedding
photographer
In addition to being a wedding photographer, I am a husband (lucky!) and a dad (super lucky!).
I love happy tail wags and purring in the evening twilight, which is why we also have two beautiful furries in our family, Octavia and Nova.
I love the smell of the woods where everything is so wild, where you can reconnect deeply with nature. In the same way, I love the only means that allows you to stay firmly connected to the world around you, the motorbike.
My wife Giulia and I travelled across Europe to the North Cape, where we left a piece of our hearts.