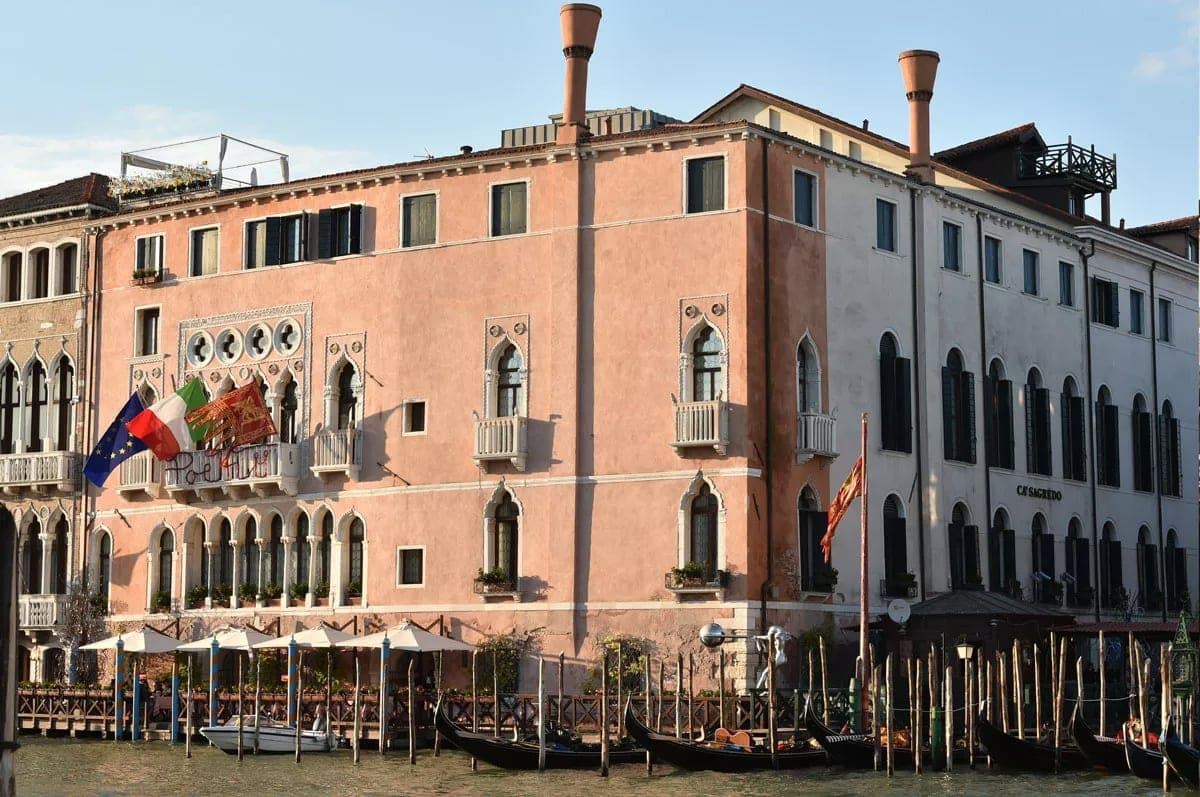 The location of Palazzo Ca' Sagredo is one of the structures that I have most appreciated during my experience as a wedding photographer in Venice. I have collected all the most important information, to allow you to get to know the history, the structure and answer the most frequently asked questions about the villa. Enjoy the reading!
Palazzo Ca' Sagredo: a history of over 700 years
Palazzo Ca' Sagredo is a majestic structure dating back to the 14th century. The historic building, now a luxury hotel, overlooks the Grand Canal in beautiful Venice. Commissioned by the Morosini family, it was renovated several times over the centuries by different owners.
In the second half of the 17th century, Palazzo Ca' Sagredo was purchased by the Sagredo, one of the most illustrious families of the Venetian patriciate. The first member to live there was Nicolò Sagredo, who would become Doge only a few years later, in 1675. He commissioned a series of renovations, which lasted over 30 years. The rooms inside the palace were completely revised, and an imposing central staircase was created.
Nicolò's successor, Zaccaria, instead began to gather an enormous collection of Renaissance-style paintings in Palazzo Ca' Sagredo. The palace was thus transformed into a true artistic pole, inside which works of inestimable value could be admired.
In the second half of the 19th century, the property passed to Agostino Sagredo, a famous politician and man of letters. Upon his death, having no children, Palazzo Ca' Sagredo was inherited by his sister Caterina, wife of Count Ippolito Malaguzzi Valeri. Caterina's great-grandchildren, belonging to the Manodori family, still own the palace.
Thanks to a series of restoration works supervised by the Superintendency of Fine Arts of Venice, Palazzo Ca' Sagredo has now returned to its former splendour. Home, museum and hotel, the palace hosts weddings and luxury events for international clients.
Palazzo Ca' Sagredo: the perfect setting for a princely wedding
Summarising the magnificence and beauty of Palazzo Ca' Sagredo in a few lines would be difficult and reductive. Declared a national monument, this enchanting historical building offers its lucky guests unforgettable moments. So if you are looking for a princely wedding venue that will amaze your guests... you have found it!
Palazzo Ca' Sagredo will be the perfect setting for a fairytale wedding, an intimate and exclusive retreat in the heart of Venice. With its romantic and luxurious views, it is truly impossible not to fall in love with this enchanted place.
Given its privileged position on the Grand Canal, Palazzo Ca' Sagredo is a location of unsurpassed visual impact. You can realise vibrant, evocative and cinematic wedding shoots here. You can also serve a refined aperitif outdoors while the sun sets over the canal, giving you an instant of pure magic.
Palazzo Ca' Sagredo then makes its internal salons available to newlyweds, all richly frescoed. These are exclusive, luxurious and unforgettable settings in which to exchange the most spectacular 'Yes'. It will also be possible to serve a delicious banquet here, surprising your guests with a gourmet menu specially designed for your event.
Palazzo Ca' Sagredo is truly the perfect location for discerning couples looking for an unforgettable venue. So if you are looking for the perfect setting for a glittering, princely wedding, you will not be disappointed.
Palazzo Ca' Sagredo: the structure of the location
Palazzo Ca' Sagredo is a beautiful building in the heart of Venice, recognised as a national monument. Surrounded by emerald waters, the building stands a few steps away from the Rialto Bridge, directly on the famous Grand Canal.
Palazzo Ca' Sagredo is not just a location for weddings and events. It is, in fact, a prestigious museum, which houses a luxurious 5-star hotel within its walls. Guests can choose from no less than 42 rooms, including some magnificent suites.
Inside Palazzo Ca' Sagredo are countless salons, one more sumptuous than the other. Here one can admire paintings by 17th-century artists such as Giambattista Tiepolo, Sebastiano Ricci and Pietro Longhi. In particular, Palazzo Ca' Sagredo makes available to newlyweds:
The Sala della Musica, an ancient hall with frescoed ceilings and walls, in which to serve the wedding banquet
The Sala del Portego, a more intimate and elegant space with splendid windows overlooking the Grand Canal. Soft natural light filters in from here, gently illuminating precious period furniture
The Panoramic Terrace, a patio directly overlooking the Grand Canal, perfect for symbolic ceremonies and an unforgettable cocktail reception
The Central Staircase, an ideal backdrop for wedding shoots and a triumphal entrance surrounded by delicate floral arrangements
The indoor restaurant L'Alcova, a beautiful room that extends directly onto the canal, ideal for alfresco lunches and dinners
Frequently Asked Questions About Palazzo Ca' Sagredo
Where is Palazzo Ca' Sagredo located? Palazzo Ca' Sagredo is located in Venice, overlooking the picturesque Grand Canal.
Can I celebrate my wedding inside Palazzo Ca' Sagredo? Certainly. You can organise the shooting and reception inside the building and in all the adjoining areas. The entire complex is exclusively dedicated to your celebration. In addition, you can also celebrate your civil ceremony on request.
Is there a restaurant inside Palazzo Ca' Sagredo? The palace has a catering service, and it is not possible to hire an external caterer. Each dish is created by professional chefs, according to a menu agreed with the bride and groom. This also includes the wedding cake, which can be commissioned from a pastry shop of your choice.
What events can be celebrated at Palazzo Ca' Sagredo? You can organise your most important celebrations at Palazzo Ca' Sagredo. The building is open for weddings and private parties. You can also organise your meetings and corporate events. Finally, you can visit the interior of the structure.
Can Palazzo Ca' Sagredo host business meetings? Certainly. Palazzo Ca' Sagredo offers splendid halls for organising events and conventions. The rooms are equipped with every comfort and feature technologically advanced equipment.
Can I stay overnight at Palazzo Ca' Sagredo? Yes, Palazzo Ca' Sagredo is, first and foremost, a luxurious 5-star hotel. It has numerous rooms and suites in which you can stay overnight with your guests or simply prepare for the ceremony.
Whatever location you choose for your wedding photos in Venice, don't forget to count on the right wedding photographer.
He will capture the emotions of that day and turn them into memories you will cherish forever.
If you're looking for a wedding photographer in Venice, or are still considering wedding venues, take a look at our wedding photography galleries.
look at the other locations
HELLO! IT IS A PLEASURE TO MEET YOU, I AM
matteo
and i am a
wedding
photographer
In addition to being a wedding photographer, I am a husband (lucky!) and a dad (super lucky!).
I love happy tail wags and purring in the evening twilight, which is why we also have two beautiful furries in our family, Octavia and Nova.
I love the smell of the woods where everything is so wild, where you can reconnect deeply with nature. In the same way, I love the only means that allows you to stay firmly connected to the world around you, the motorbike.
My wife Giulia and I travelled across Europe to the North Cape, where we left a piece of our hearts.