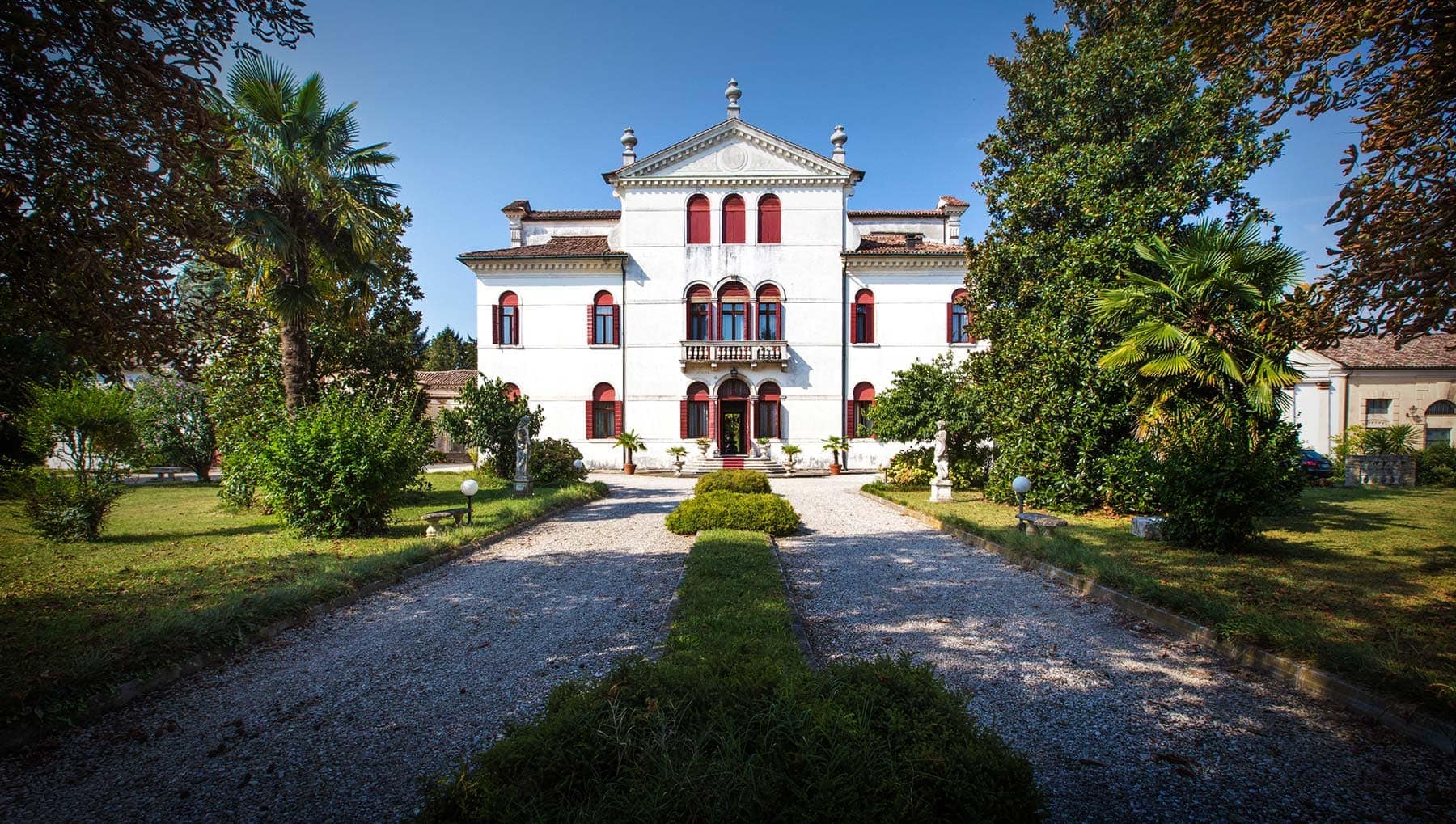 The location of Villa Sagredo is one of the locations that I have most appreciated during my experience as a wedding photographer in Venice. I have collected all the most important information, to allow you to get to know the history, the structure and answer the most frequently asked questions about the location. Enjoy the reading!
Villa Sagredo: the history
The elegant Villa Sagredo is located in Vigonovo, a Venetian municipality on the Brenta Riviera. It was commissioned at the end of the 16th century by the noble Sagredo family. They decided to build a luxurious country residence on the ruins of an ancient Roman castle.
From that moment on, the family owned Villa Sagredo for over three centuries, which became an economic and social centre. In fact, many guests stayed in the complex, including even Galileo Galilei. The latter was a close friend of Gianfrancesco Sagredo, so much so that he made him the protagonist of his 'Dialogue on the Two Chief World Systems'.
Villa Sagredo and its owners reached the height of their wealth and popularity between the 16th and 18th centuries. Many members of the Sagredo family reached positions of great prestige. The Sagredos had contacts with many prominent people, such as Louis XIV, Wolfgang Amadeus Mozart and Carlo Goldoni.
Unfortunately, with the death of Agostino Sagredo, the direct branch of the family died out in 1871. The Villa passed between different owners, starting a long and slow decline. It was only with the purchase by the Bano family that Villa Sagredo came out of this dark period. Since the 1970s the owners have brought the complex back to its former glory through meticulous restoration. Villa Sagredo is now a popular location for events and weddings, continuing to fascinate hundreds of visitors.
Villa Sagredo: the perfect setting for a classic and refined wedding
The splendid Villa Sagredo is a structure where history and nature blend gracefully. Elegant and monumental, it is the perfect place to celebrate timeless weddings. Here you will be able to organize classic and refined weddings that will fill the eyes of your guests with wonder.
With its huge centuries-old park, Villa Sagredo offers bucolic views and corners of pure peace. Strolling under the shade of the trees, you can organize your romantic photo shoot directly in the Villa. In the meantime, your guests can enjoy a rich aperitif in the garden of the Villa, admiring the surrounding panorama. If you are looking for a versatile and dreamy location for your summer celebrations, you will not be disappointed.
Villa Sagredo offers many solutions if you prefer a more elegant and formal banquet. You can choose between the noble halls in the main building or the more rustic halls in the annex. If the former are suitable for classic celebrations, the latter will be perfect for shabby chic events.
Thanks to the care of the entire staff, you will be followed step by step in the organization of the most romantic of weddings. You won't have to worry about music, setting up, banqueting! Everything will be perfect and taken care of down to the smallest detail.
Villa Sagredo is truly a magical location, a unique setting for your most beautiful day. It will be classic, elegant, but never tacky or outdated, it will win your heart forever. If you love art, culture and nature you will not be disappointed and you will always have a sweet memory of your wedding.
Villa Sagredo: the structure of the location
Villa Sagredo is an elegant and majestic residence, with the typical lines of the marvellous eighteenth-century Venetian villas. It is a neoclassical style complex, divided into several buildings. In addition to the main body there is an elegant annex, two loggias and a chapel.
Visitors are immediately transported through the high gates back to bygone eras. They are greeted by the complex's vast park, a 40,000 square metre romantic-style green lung. Here, every single tree, bush and pathway has been carefully positioned according to a detailed architectural design. Strolling through the centuries-old trees, visitors go on a spiritual journey that ends with a magnificent view of the Villa.
Leaving the park and the well-kept garden behind, one reaches the elegant façade of the main building. This is divided into three levels, with a staircase leading to the entrance and a tympanum decorated with pinnacles. Upon entering the Villa, visitors are immediately captivated by the beauty of the great Salons. Of different sizes and styles, these are distributed over two floors. They contain works of art, ancient relics, fine carpets and perfectly preserved period furniture. There are also two equally elegant loggias, which are always available for events.
Passing through the rear exit, we reach a second garden where the Villa Sagredo annexe is located. This is the old barchessa of the building, now converted into a restaurant. Characterized by a more rustic style, it is possible to organize rich banquets, enjoying the typical warm wooden ceiling.
Villa Sagredo is truly a magical place full of proposals, which will fill your heart with sweet memories. Thanks to the great variety of spaces and environments, you will be able to realize your every wish here.
Frequently asked questions about Villa Sagredo
Where is Villa Sagredo located? Villa Sagredo is immersed in the Venetian countryside, in Vigonovo, a Venetian town on the Brenta Riviera.
Can I celebrate my wedding inside Villa Sagredo? Certainly you can. You will be able to organize the shooting and the reception inside the Villa Sagredo and in all the surrounding areas. The entire complex is exclusively dedicated to your celebration. On request, it is also possible to celebrate civil ceremonies in the Park or in the Halls.
Is there a restaurant inside Villa Sagredo? Yes, Villa Sagredo has an internal restaurant "Antichi Granai". Our chefs will delight you with a refined cuisine, but without losing sight of tradition. You can ask for personalized menus but we do not hire external caterers.
Which events can be celebrated at Villa Sagredo? Inside Villa Sagredo you can organize your most important events. The Villa Sagredo is open for weddings and private events. You can also organize your conventions, meetings, workshops or cultural events.
Can Villa Sagredo host business meetings? Certainly it can. Villa Sagredo offers its indoor and outdoor spaces to organise events and conventions. The rooms are equipped with every comfort and feature a technologically advanced system. In each room, the Villa provides audio-video service, projector and Wi-Fi.
Can I stay overnight at Villa Sagredo? Unfortunately, there are no suites or rooms available. However, there are several hotels and flats nearby.
Whatever location you choose for your wedding photos in Venice, don't forget to count on the right wedding photographer.
He will capture the emotions of that day and turn them into memories you will cherish forever.
If you're looking for a wedding photographer in Venice, or are still considering wedding venues, take a look at our wedding photography galleries.
look at the other locations
CIAO! è UN PIACERE CONOSCERTI, SONO
MATTEO
E SONO UN FOTOGRAFO
DI MATRIMONI
Oltre a essere un fotografo di matrimoni, sono un marito (fortunato!) e un papà (superfortunato!).
Amo le scodinzolate piene di felicità e le fusa nella penombra della sera, perciò nella nostra famiglia ci sono anche due meravigliose pelose, Ottavia e Nova.
Adoro il profumo dei boschi dove tutto è così selvaggio, dove puoi recuperare le connessioni profonde con la natura. Allo stesso modo amo l'unico mezzo che ti permette di restare fortemente connesso al mondo che ti circonda, la moto.
Io e mia moglie Giulia abbiamo attraversato l'Europa fino ad arrivare a Capo Nord, dove abbiamo lasciato un pezzo del nostro cuore.