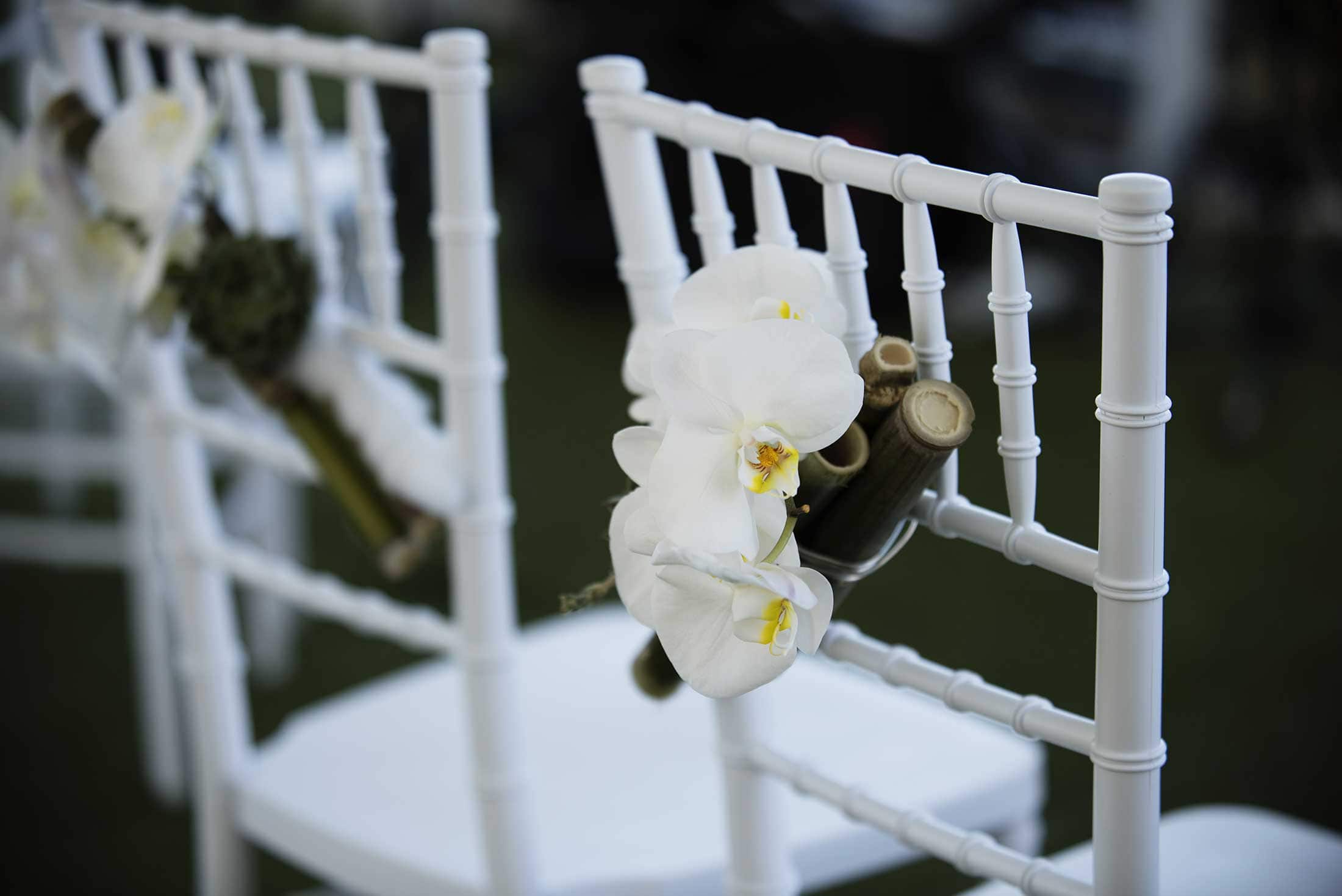 Bold or minimal doesn't matter: the Total White Wedding is still stylish and trendy. And it ensures you the perfect photo shoot.
That the traditional wedding dress is white everyone knows, but have you ever thought of organizing a Total White Wedding? Elegant and essential, this wedding lends itself to be organized both in summer, when the white of the arrangements contrasts wonderfully with the blue of the sky, and in winter, set like a jewel in the cold colors of this season.
But before you hit the ground running for a Total White Wedding, you need to know a couple of things: that it is not easy to plan and for it to be a success, you will have to follow the advice of the best wedding planners to the letter and avoid the dress code fad.
Total White Wedding: the bride's dress
You must be thinking that on this subject you don't need advice: it is obvious that the wedding dress will be white! Sure, but white possesses a thousand different shades: ivory, pearl, optical white, natural, cream, ice, antique white, smoke, milk, you name it.
And since you want to take center stage, you will have to guess the kind of white that suits you, which can enhance your qualities and make your smile shine with its own light. How to adjust yourself? By knowing that each type of white perfectly matches a certain skin color:
Fair skin - in this case, throw yourself without hesitation toward shades of warm white, such as cream, ivory and cream, all shades that contain a hint of yellow and will enhance your complexion.
Olive skin - to enhance this complexion, whites that give off a rosy effect will be perfect, such as the elegant and visually striking Nude color.
Dark skin - if this is your complexion, you're in luck: all shades of white will suit you! From optical white, which will highlight your complexion, to champagne white, otherwise very difficult to wear, you will have a wide range of wedding dresses to choose from!
But having cleared that up, let's see how to set up your Total White wedding venue.
White, white and more white!
Whatever location you choose, it will have to be all white. There is no doubt about that. For the mise en place, think of a riot of ceramics, china and linen or cotton tablecloths, while for the centerpieces, elegant bouquets of flowers will be perfect, to be chosen from white roses, freesias, anemones, lilies, tulips and hydrangeas. For the setting of the venue, on the other hand, go ahead and opt for very elegant calla lilies, which will give a hint of discreet elegance to the ambiance.
If your wedding will take place in winter, you can embellish lla location with candles and designer objects, strictly white, while if you get married in summer, aim for floral installations, furnishings and favors.
Preparing the confetti, then, will be child's play: just arrange a series of elegant glass containers and fill them with sugared almonds, all strictly white, but with different contents. Go ahead and indulge yourself!
As for the dress code, however, go easy. Imposing total white attire on your guests might put them on the spot: it's better to ask them to wear an accessory in this color, leaving them free to choose from bags, scarves, belts or flowers in their buttonhole. Also because then, if everyone was dressed in white, how could you stand out in your wonderful wedding dress?
HELLO! IT IS A PLEASURE TO MEET YOU, I AM
matteo
and i am a
wedding
photographer
In addition to being a wedding photographer, I am a husband (lucky!) and a dad (super lucky!).
I love happy tail wags and purring in the evening twilight, which is why we also have two beautiful furries in our family, Octavia and Nova.
I love the smell of the woods where everything is so wild, where you can reconnect deeply with nature. In the same way, I love the only means that allows you to stay firmly connected to the world around you, the motorbike.
My wife Giulia and I travelled across Europe to the North Cape, where we left a piece of our hearts.