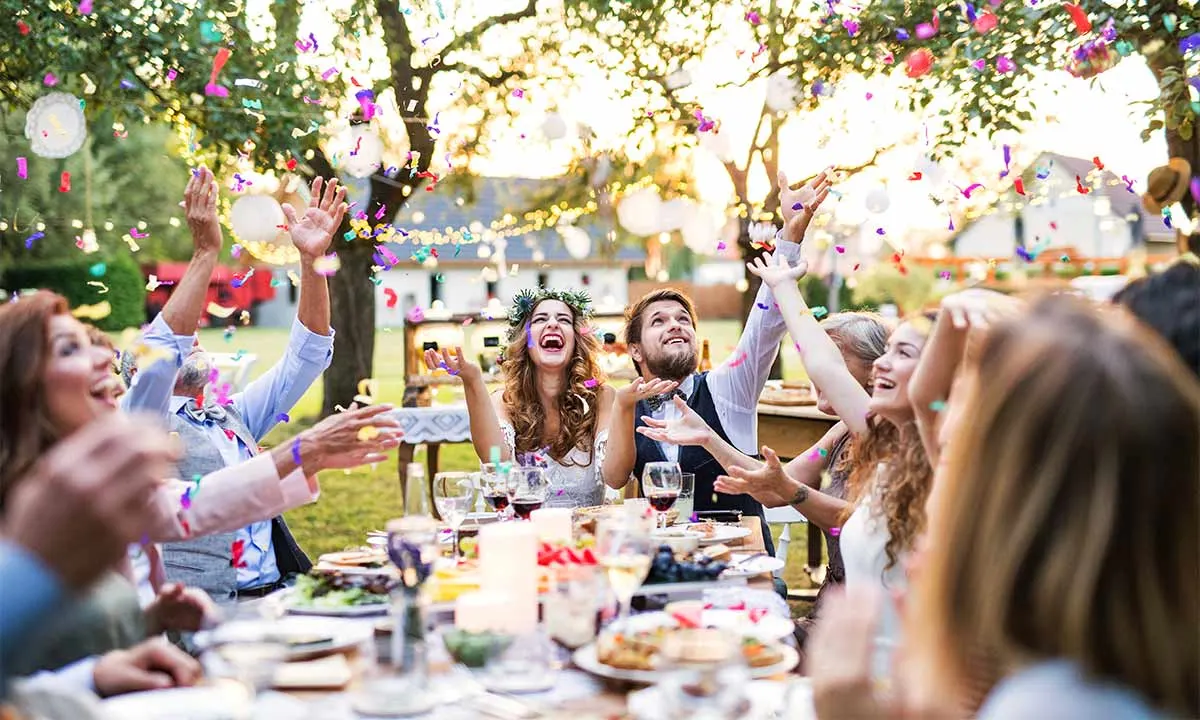 The engagement party is an exciting event for any couple about to take the big step of marriage. It is, in fact, a unique opportunity to celebrate one's love and share happiness with friends and family.
What, however, is an engagement party? While in the past it was the occasion for the official marriage proposal, today it has become a time to share with loved ones. It is an opportunity to get to know your future spouse better to your friends and family, creating memories that will last forever.
Whether you are the one planning the party or there are others involved, the important thing is to create an unforgettable event. Therefore, we have selected some of the best ideas to make your engagement party memorable and engaging. Happy reading and happy engagement party!
Engagement party: 5 ideas for an unforgettable event
Game night
Hosting an engagement party at home is a great choice for couples who dream of an intimate and relaxing event. Therefore, a board game night can be an original idea to celebrate your love together with your loved ones.
To best organize this kind of engagement party, you will first have to choose the games to propose. You can opt for classics such as Monopoly, Risk or Trivial Pursuit, or choose newer and lighter games. Be careful, choose games that are appropriate for the number of participants and the length of the evening!
Once you have chosen the games, you will need to think about the setting. You can decorate the house with dim lights and candles or choose a more fun and colorful theme. As for the food, you can arrange a buffet with finger food and appetizers, or choose a more elaborate menu. Alternatively, ask your guests to bring something with them to share! You will thus create a more intimate and convivial atmosphere, which will help participants relax and get to know each other better.
Want to make your engagement party more cheerful and memorable? Animate the evening with a cheerful karaoke contest! You can also create a DIY photo booth, with fun backgrounds and accessories to take souvenir photos of your evening.
A board game night is an original and fun idea for hosting an engagement party at home. Choose the right games, create the perfect atmosphere and have fun together with your loved ones, we are sure you will experience unforgettable moments!
Outdoor party
Do you love nature and your party will be held in the beautiful season? Then organizing an outdoor engagement party is the right solution for you! First, you will need to choose the location in which to hold your engagement party.
The backyard is definitely the easiest, most convenient and economical solution. However, if you want to add a touch of magic to your party, opt for a beach or a park. Imagine dancing under the stars, with the sound of the sea in the background, or having a romantic picnic under the shade of a centuries-old tree.
Contact with nature will make your event even more special and memorable. In addition, you will have the opportunity to take spectacular photos to capture every moment of your outdoor engagement party. For the menu, you can opt for a casual lunch with barbecue and appetizers, or a buffet with appetizers. Remember to choose light and fresh foods that are ideal for a day outdoors.
An outdoor engagement party then allows you to organize plenty of fun group games and activities. On the other hand, if you prefer a relaxing evening, screening a movie outdoors can be a romantic and original choice. All you need to do is set up rugs, pillows and lanterns in the garden, creating a magical moment under the stars in the company of loved ones.
Organizing an outdoor engagement party is a great choice for those who prefer an informal and fun event. With a little imagination, you can create a unique and unforgettable atmosphere for you and your guests. Have a great time!
Themed engagement party
If you dream of planning an original event, a themed engagement party can be a fun way to celebrate your love. There are so many possible themes to choose from, you just need to think about your interests and style. Are you running out of ideas? Don't worry, here are some ideas for a themed engagement party that will leave everyone speechless!
If you are a movie lover, you could throw a Hollywood-themed party. Invite your friends and family to dress up as their favorite celebrities and set up a photo shoot. For the menu, you could serve tasty appetizers such as popcorn, pretzels, and cheese bites. Want to wow your guests? Go for caviar, seafood cocktails and oysters. Then don't forget to prepare sophisticated drinks and tasty desserts.
If you love to travel, an exotic-themed party might be the right choice for you. Decorate the venue with items from different countries and offer your guests a menu inspired by the flavors of the world. Chicken curry, sushi, spring rolls, pad thai, samosas, tropical fruits…we are sure you will tantalize everyone's taste buds.
Finally, if you are a vintage lover, a 1920s-themed party will then be for you. Set up the venue with items from the past and wear vintage clothing. Let yourself be transported back in time and celebrate your love like a real Great Gatsby party!
Choosing a theme for your engagement party will give you the opportunity to create a truly unique and special atmosphere. Use your imagination and be inspired by your passions to bring an unforgettable event to life.
Romantic getaway
Do you have a higher budget available and want to give a special memory to your loved ones? Turning your engagement party into a real romantic getaway may then be the right choice for you!
For a group outing, you could opt for a visit to a nearby city or a day at an amusement park. On the other hand, if you are looking for something more challenging, pamper yourself and your loved ones with an exciting trip abroad.
To plan a successful group outing or trip, you will need to plan everything down to the last detail. Be sure to choose a destination that everyone likes and agree on a budget for transportation, food and lodging. Then plan a series of activities, excursions, and visits during the trip, so you can ensure that you have fun and sharing moments.
Organizing a group cooking class, for example, can be a way to test your loved ones' cooking skills and have fun. Do you have a passion for wine? A guided tasting at a famous winery is then the perfect option to learn something new.
As for lodging, try to find an accommodation that suits the needs of all participants. Are you a large group and want to pamper your friends and family? Then consider booking an apartment or villa!
In conclusion, a group outing or trip can be a fantastic choice for an unforgettable engagement party. Plan everything down to the smallest detail and involve participants in choosing activities to have a truly special experience.
Classic engagement party
If you love tradition and tranquility, throwing a classic engagement party will then be the perfect choice for you. To make this day unforgettable, there are a few things to keep in mind.
First of all, choose an elegant and refined location, such as a restaurant or a mansion. As for decoration, opt for classic elements such as fresh flowers, scented candles and white linen tablecloths. Add personalized details, such as photographs of the couple or a table for the future guests' book.
For the menu, serve local dishes, with a choice of options to please all tastes. Don't forget to include a dessert buffet to satisfy your guests' "cravings"! To entertain your guests, you can also hire DJs to keep everyone dancing late into the night. Also plan for fun times by offering group or couple games.
Finally, don't forget to send formal invitations at least a month in advance so that your guests can make the best arrangements. Remember to thank everyone at the end of the evening for making this moment so special.
In summary, a classic engagement party requires a fine location, a delicious menu, engaging entertainment, and most importantly, the presence of your loved ones. What are you waiting for? Start planning your dream engagement party now! Best wishes!
Whatever location you choose for your wedding photos in Tuscany, don't forget to count on the right wedding photographer.
He will capture the emotions of that day and turn them into memories you will cherish forever.
If you're looking for a wedding photographer in Tuscany, or are still considering wedding venues, take a look at our wedding photography galleries.
look at the other locations
HELLO! IT IS A PLEASURE TO MEET YOU, I AM
matteo
and i am a
wedding
photographer
In addition to being a wedding photographer, I am a husband (lucky!) and a dad (super lucky!).
I love happy tail wags and purring in the evening twilight, which is why we also have two beautiful furries in our family, Octavia and Nova.
I love the smell of the woods where everything is so wild, where you can reconnect deeply with nature. In the same way, I love the only means that allows you to stay firmly connected to the world around you, the motorbike.
My wife Giulia and I travelled across Europe to the North Cape, where we left a piece of our hearts.